Disclaimer. If you haven't read the Moving to Ireland series before please read this first.
I moved to Dublin, Ireland in August 2016. As such I wanted to provide information about moving to Ireland. This series is from the perspective of a Canadian on a Working Holiday Visa (which is a temporary visa that lasts 2 years for Canadians). If you're from another country/want to get a permanent visa/plan to attend school in Ireland you'll need to do further research. Here is a good place to start. I am not an immigration lawyer or expert and I make no guarantees your experience moving to Ireland (or any country) will be the same as mine. Failure to do the proper research and apply for the proper paperwork to move to a new country could land you in legal and financial trouble (including prison and being banned from the country). It's up to you to make sure you are moving to Ireland (or any country) in a legal way. Nonetheless I hope this series will serve as a starting point and inspiration if you are thinking about moving to Ireland.
Ireland in this series refers to the Republic of Ireland. Northern Ireland is a part of the UK and has different rules about visas. If you are looking to work in Northern Ireland, you will need to research visas for the UK.
There'll be a few parts to this series. This fourth part is about finding a place to live. Since I decided to move to Dublin this post will be about finding a place to live in Dublin, but much of the information can be applied to other cities/towns in Ireland. In Ireland the term to let means the same as to rent, and a flat is another term for an apartment. Previously in this series was
Part 1 – Should you move to Ireland?
Part 3 – Getting Settled and Paperwork
---
The Honest Truth
When I got my Working Holiday Visa for Ireland I decided to move to Dublin because it's the largest city in Ireland. Presumably, that would mean I'd have more rental and job opportunities. There were other reasons as well, but those were two of the practical ones for why I settled in Ireland's capital.
What I didn't realise before coming here is how competitive the rental market is in Dublin. If you're coming in August (like I did) or September you will also be in competition with students looking for a place to live. Rent in Dublin can be quite high, especially if your set on renting in the city centre (Dublin 1 or 2). You can save yourself some money if you look to rent outside the city centre and if you rent with other tenants. Rent in other cities will likely be a bit less than in Dublin as well.
Free (Sort of) Accommodation?
You can try looking for work at a hostel in exchange for accommodation. You could also sign up with WWOOF (World Wide Opportunities on Organic Farms) or Help X. Here you pay a yearly membership fee to find opportunities to work (usually on a farm or sometimes helping at a Bed and Breakfast) in exchange for accommodation and sometimes food. You won't be paid a wage however. There is also Couchsurfing where you stay at someone's home for free (often sleeping on a couch). With Couchsurfing, your only stay with a host for few days at a time, so it's not a long-term accommodation option. These can all be worth looking into, but be sure to read about safety issues for each of them.
In Dublin I found most hostels I went didn't need workers. The fact I was there in August when (tourism-wise) it's the busiest time of year didn't help my chances. I've done Couchsurfing before, but I didn't want the hassle of looking for a place to stay every few days while still doing paperwork and looking a job. I haven't used WWOOF or Help X, but with those sites, it's important to remember you're just getting your accommodation (sometimes food) covered for your work. You won't be earning any other income, and working in the country, it could be hard to get around if you want to travel elsewhere on your days off.
While you might be able to use some of these options temporarily you'll probably need to find a place to rent.
Dublin Districts
In Dublin areas are divided into postal districts going from 1 to 24. The lower the number usually means the closer to the city centre. Dublin 1 and Dublin 2 are right in the city centre (or in town as the locals would say). Most (not all) of the tourist attractions are in Dublin 1, 2, 7 and 8. Even numbered districts are on the south side of the River Liffey, and odd numbered ones are north of the Liffey.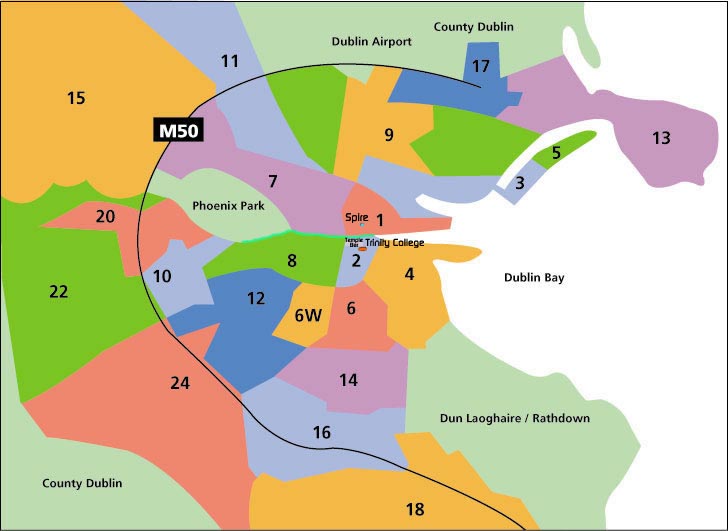 Here's a map of the postal districts in Dublin. Courtesy of Dublin Works
Rental Resources
You will want to sign up for an account with Daft.ie as it's the biggest rental website in Ireland. You may also want to sign up for an account on Rent.ie as well (although many listings here will be on Daft too). Make sure to have notifications for your phone and email turned on. You don't want to miss when someone is interested in meeting you about a rental. If you don't respond right away, I guarantee someone else will, and by that time it will be gone. Once I got a voicemail from a lady about a room I was interested in renting from her. I didn't get it until 10 minutes later, and by that time it was too late.
If you're on Facebook, there are city/region specific groups for finding a place to live. Search for something like Dublin/Cork/ else (etc) flatmates. Or try Renting in Dublin/Limerick/Wherever Ireland, etc., and you'll probably find a group or two.
You could check the classifieds in the newspapers like The Irish Times, but you'll have an easier time looking online for a rental. By the time you respond to a print classified ad it's more than likely the apartment/room will have been rented out.
You won't be able to rent anything in Ireland while you're still in Canada, but I'd sign up for an account with Daft.ie and Rent.ie ahead of time. This way you can get an start getting an idea of what rental prices are like and how much you'll need to spend on rent/month before you arrive.
Important – NEVER send money to someone online that you don't know for a property rental. ALWAYS go check out the apartment/flat/room in person before agreeing to rent it.
Unfortunately, there are scammers out there. If something seems too good to be true, it probably is. Don't trust the pictures you see online. While a place might look good in the rental ad, you'll want to see it in person for yourself (more on that in a bit).
Your Rental Profile
When you sign up for an account on Daft.ie or Rent.ie you'll want to fill out a profile. The more information you can include, like a picture of yourself, the better chance of someone responding to your application. Make sure to put an email and local phone number, so people will have a way of contacting you when you apply for a rental. In the interest of safety do not give out your social security details, credit card information, passport, etc. A photo and contact (phone preferably and maybe email) will be fine.
You may also want to save a write-up in an email or word document, etc. about yourself. Make sure to include information about yourself like if you smoke or if you like to party. Put in what type of hobbies you do. What kind of place you're looking to rent, for how long, etc. Then you can easily copy/paste this into each application (be sure to modify anything specific you many need to). My profile looked like this following.
Hello my name is Alouise Dittrick, and I am looking for a single, private room to rent in Dublin. I am from Canada and in Ireland on a working holiday visa. I'd like to find a place to live for the full two years my visa is valid (until August 2018). I don't smoke or do drugs. I enjoy the occasional pint or glass of wine, but I'm not much of a party person. I love to travel, enjoy theatre, music, writing, reading, and getting to know other people. I'm currently looking for a full-time job, but I also do some freelance writing work on the side. If you're looking for a clean, respectful, and easy going tenant, please contact me. I have references available as well.
If you like to party, do drugs (there is talk about legalising marijuana for medical use, but it hasn't gone through yet), or smoke (including vaping) don't lie about it on your application. If you move in eventually your landlord and flatmates (if you live with anyone else) will find out and this can lead to a stressful time for all.
Pets
You may have noticed in previous installments of this series I didn't talk about how to bring a pet into Ireland. For myself that's because I don't have any pets. If you're just going to be in Ireland on a temporary Working Holiday Visa you may want to consider having a family member or friend adopt and care for your pet while you're gone. Bringing a pet into Ireland will require more paperwork, and will make finding a place to live much harder.
If you're interested in knowing what it's like to bring pets into Ireland Franklin
From Coast A Costa
shares his experience in this video about looking for a pet-friendly place to rent for him, his girlfriend and their two dogs. It's worth noting they're from the US, and were living in Poland before they moved to Ireland. Still this video is informative and will give people some idea of what to expect moving to Ireland with pets. And it gives you an idea of what renting is like in Dublin.
What's Available to Rent
Obviously if you're looking for a private one bedroom or studio (where the bedroom/living area is the area) place to rent you'll pay more than finding something shared with other people. There are flats to rent but also look at houses with rooms to rent as well. If you are looking to rent in the city centre, it will be more expensive than looking for areas outside the city centre. A one bedroom will probably cost around €1200/month in the city centre (often more). Something shared with other tenants could range from €300-€800/month depending on how many people live there, where it is, and if you have a private bedroom or a shared bedroom.
Shared Rooms
One thing to be on the lookout for is properties with shared rooms. In Dublin, because the rental market is so competitive there are places where you share your bedroom with one (and many times more) people. When I first started looking for a place to live I didn't care about shared rooms. My thought was "it's not ideal, but something (even shared) is better than nothing." After seeing a few places with a shared bedroom, I knew this wouldn't be right for me. I'm introverted, and I need my own bedroom (not shared with four other people) to come to when I get home. Sharing a room in a hostel dorm for a few days when I travel is fine, but living like that all the time isn't for me.
If you are looking for a private room, make sure to select single room and private on online searches.
Viewings
While it is great to check online listings you will always want to view a property in person before you see it. In fact, it's a big red flag if someone wants to a rent a place to you without meeting you or having you see it in person. Big red flag. Don't do it.
Viewings in Dublin can vary depending on when you go and how competitive the market is. With some of the viewings, I went it was just me, meeting the landlord/other tenants. This setup was great because I could see the place and get to know who was living there (and have them get to know me well) without needing to compete directly with anyone else. There were many viewings I went to where I wasn't the only person there. It can be hard to make an impression and get someone to remember you (in a positive way of course) when you're one of 10 people who are there at the same time, and when they're seeing hundreds of applicants.
One reason to see a viewing in person is to make sure you're getting what was promised. There was one place early on that I went to see that said it was a single and private room. I got there and found out the bedroom would be shared with another person. Not only that, but it wasn't available yet, so if I wanted to rent from them I could sleep on the couch. I decided to look elsewhere.
Be Organised
Chances are you won't have a bank account open yet (cause you need a permanent address and you're looking for a place to live), but I would suggest getting out the rent and enough money for a damage deposit (usually equal to another month's rent). When you go for the viewing it's unlikely that they'll tell you right then and there that you have the place. But when you get a call back asking if you're interested in taking the place you'll want to be able to say yes, and that you can pay the first month's rent and the damage deposit right away. About €1200 will probably be enough to cover your rent and damage deposit, but it could be more depending on where you live.
I would suggest keeping a file or spreadsheet on your phone/computer with the apartments you've
you've applied for online, and the ones you've viewed in person. Take a look at the thing to consider below and make a note of anything that isn't in the online listing.
Things to Consider
How much is rent? Does the rent include any utilities? If not how much are they per month?
Does the rental include Wifi or cable and how much are these per month? In Ireland, you have to pay a yearly TV licence if you have a TV, whether or not you use it or have cable. The place I live in does not have TV, which is fine with me. I can watch Netflix (we have WiFi) on my laptop.
How old is the building? Are there any maintenance problems. What is the heat like in the winter? Will your room have a heater?
How many bathrooms are there? How many people will you be sharing a bathroom with?
Is there public transit, like a bus stop or Luas (tram) or DART (train) station nearby? If you have a job how long will it take you to get to work or the city centre? It is worth trying to find a place close to 2 different types of public transit. When I was looking for a place to rent the Dublin Buses were on strike. Finding a place close to a DART or Luas was necessary if I didn't want to pay pricey cab fare every day. Bus strikes can happen, so it's worth keeping this in mind
If you are planning to get a vehicle find out what parking is like. Is there private parking available, and if so is there an extra cost? If you have a bicycle to get to work (many people bike to work) is there a secure place to lock up your bike?
What types of services and amenities are close by (grocery stores, restaurants, banks, etc.)? If you can find a place close to an Aldi or Lidl, that's a bonus, because they're the cheap grocery stores here in Ireland.
Who is living here? How many people are there? Are you renting directly from a landlord? Or are you paying a fellow tenant a portion of the rent and bills?
What are the people you'll be living with like? Are they quiet? Are they looking for someone to be social? Is everyone pretty independent? Getting to meet your future flatmates will help you see how well you mesh together.
How is security? Is there a security system for the building? Does your room have a lock and key? Are there any security issues in the neighbourhood? Before saying yes to any place, you may want to go back and check out the area at night as well. It's worth paying attention to your instinct on this. I went to one place that seemed right on paper, and the unit looked good in person during the day, but the neighbourhood gave me a weird feeling. Always go with your gut instinct. I didn't rent from that place
How are groceries done? Does everyone buy their own or do share and you split costs? Same with things like cleaning supplies.
How does cleaning work? Is there a cleaning schedule people follow for the common areas? Is there a laundry schedule?
What to Look For at a Viewing
Take a note of what the property includes. Is your room furnished? Already furnished bedrooms are usually the norm from what I found (unless you're looking to move into a brand new building in the suburbs). Will you need to buy anything for your room (bedding, hangers, towels, etc.)? Will you have access to a kitchen/dining area, and living area? Will you need to buy anything for common areas (dishes, pots, pans, etc.)? Is there a washer or dryer? I found in my viewings is that most places (including the one I rent now) will have a washing machine, but not a dryer. You'll hang or place your laundry on a drying rack or outside on a clothesline to dry. Self-serve laundromats in Dublin are very rare, and dry cleaners are expensive. Be sure to find a place that has a washing machine, even if it's a shared one in a building.
I would make sure to find when they are making a decision. Find out if they will be contacting all the applicants directly. Some places will contact you whether or not you were successful. Other places said might only contact the successful applicant within a week. Don't put all your eggs in one basket. While you may have vieweda particular place and liked it there's no guarantees they will accept your application. In the meantime applying and looking for other places to live.
And remember to trust your gut instinct. Even if a potential rental seems perfect on paper if you get a bad vibe when you see it in person, or when you meet the tenants then just say no and look elsewhere.
My Rental Experience
It took me about 3.5 weeks to find a place to rent. I applied for many different rentals and saw several in person. Some were on my own, but some I was there with other people. While I was tired of staying in a shared hostel dorm with 30 people I didn't want to rush into things and take the first place available, especially if it wasn't right for me.
When I went to rental viewings I would bring a copy of personal references, but I found most people weren't too concerned about seeing those. I'd still bring them anyway just in case. If you haven't rented before (like perhaps you've always lived with your family), try to get personal references from people that have worked or volunteered with you.
During viewings people wanted to know about me and why I was in Dublin. Many of these meetings (including the one I ended up accepting) were pretty casual in nature. I would still recommend dressing nice (don't just put on a dirty shirt and ripped jeans, make a good first impression). Tell the landlord/tenants about yourself. Be friendly and personable, but honest too. If someone says they love to throw raging parties on a Wednesday night and you're idea of a party is watching The Joy of Painting with Bob Ross on Netflix with friends (literally what I did on my birthday last year) then this living arrangement might not be the best.
Final Thoughts
Renting in Dublin can be a very stressful experience. It can be tempting to get discouraged when the rental search takes longer than you'd like. Or to just take the first place you get because you don't want to stay in a hostel/hotel anymore, but it's important to find something that's right for you. That said there is no perfect place, and you might need to alter your wishlist if you're not having much luck in your search. Originally I wanted to stay in the city centre, in a private bedroom and not pay more than €400/month. I soon realised finding a place with that criteria would be impossible. Instead, I stuck with looking for a private room, but upped my budget to €500/month and looked outside the city centre as well (but close to transit). Eventually, I found the right place for me. I live with two nice roommates, but I have my own room. I'm within walking distance of the train and bus (and it only takes 10 minutes for me to get to work). Best of all, my rent is under my budget (€450) with everything (even wifi) included.
In the next and final part of this series I'll go through getting a job in Ireland, because you need to pay your rent somehow.
Have you moved abroad? What was your experience looking for a place to live? Leave your comments below.